For many men, the idea of a threesome or having two women please them sexually is the ideal fantasy. However, for most of it, these thoughts remain a fantasy for the rest of our lives. Luckily for you, London is a hub for Asian erotic massage parlours that offer "Four Hands Massage" services so you can make this fantasy a reality.
This unique massage style is much like any other erotic massage style with the addition of another massage therapist. It truly is a sensually arousing and exciting experience that will stay with you forever. The two masseuses will use their hands to work in a synchronized movement, making sure your entire body is massaged. This will feel amazing for you; after all, double the hands double the pleasure!
Here are some of the amazing reasons you should get a 4 hands massage
Works on your whole body – Due to the fact that 4 hands massage uses an extra set of hands that means you get double the pleasure and double the work done to your body. The masseuse can work on different parts of your body in a synchronized movement, stimulating your body more than usual. You receive greater levels of both relief and pleasure, and it is a great way to work on any muscle tension or pain that your body may be experiencing.
Same benefits as a traditional massage – The great thing about most erotic massages is that they use the same basics as a traditional therapeutic massage. However, because there are two girls working on your body at the same time, it can be a lot more effective for you. It cannot just help you physically, but the extra pair of hands can also eliminate feelings of stress and anxiety a lot easier as there is twice as much attention.
Highly pleasurable – The thrill of getting an erotic massage, in particular a 4 hands massage, is how incredibly pleasurable it feels. Its sexual nature can bring you the most intense levels of pleasure you have ever experienced. Although the masseuses work in synchronization, at times during a four hands massage, they divide the body into two parts with each girl taking a side each. It is very erotic to have one girl massage your shoulders firmly, relieving pain or tension while the other is gently caressing your penis.
Unique – A 4 hands massage is a very unique experience that not many people experience in their lifetime. IT is not a sexual situation that you find yourself in often, so when you do it will always be a very special experience for you. It is very different than traditional sex set ups, therefore the idea of something new might excite you lot more.
Best orgasms – Four hands massages are known for providing you with the best orgasm experience. Although it might be very difficult to hold back because you are so turned on, when you eventually do climax, it will be much more intense and longer lasting than usual.
It is worth the price – Although many people are put off a four hands massage because it is rather pricey, if you do decide to get one, you can be at ease knowing you will certainly will get your money's worth.
A Four Hands massage is ideal for you if you are looking for an erotic massage that is much more powerful and pleasurable than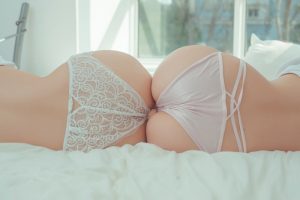 any other style of massage therapy. If you would like to book a Four Hands massage then you can contact us via SMS, email or by phone call. We are open daily from 10am until 3am, so no matter what your schedule we will be open for you. As well as having many different massage parlours that you can come to in central London, we also offer outcall services to many different areas in the city. Therefore, if you would prefer the masseuse to visit you in the comfort of your own home or hotel room then we can make this happen for you. Our masseuses are from China, Japan and Korea and have been highly trained at some of the most elite massage therapy schools across Asia; therefore you can expect genuine and authentic oriental massage therapists. Our girls all specialise in various different services and we will always have what you are looking for, especially if that is a Four Hands massage! Ready to book your sexy 4 hands massage in London? Call us now on 07767966512